Penn State Meat Laboratory
A hub for meat science teaching, research, and extension
The 16,000 square foot Penn State Meat Laboratory supports teaching, research, and extension on all aspects of meat science.
Built in 1958 and occupied in 1960, the Meat Lab is located along Porter Road across from the iconic Beaver Stadium. The facility is fully equipped for livestock slaughter, and equipment is available to conduct most types of commercial meat processing including sawing, grinding, chopping, macerating, injecting, massaging, cooking/smoking, and packaging operations. It features more than 1,200 square feet of refrigerated space including freezers and coolers for storage and processing of carcasses, cuts, and processed meat products. Separate refrigerated and frozen storage areas and laboratories are available for research projects. The Meat Lab operates as a U.S. Department of Agriculture (USDA) inspected meat processing facility.
The facility also includes two classrooms. A large 200-person classroom allows for whole carcasses to be rolled into the room on an overhead rail. A smaller 40-person classroom provides a comfortable atmosphere for small classes and meat industry workshops.
By the Numbers
16,000 square feet total space
1,200 square feet refrigerated space
200-person classroom
40-person classroom
3 students living and working on-site each semester
60,000 pounds of fresh beef processed annually
24,000 pounds of fresh pork processed annually
3,000 pounds of fresh lamb processed annually
30,000 pounds of meat snacks processed annually
Teaching
Hands-on learning is a fundamental component of courses taught in the Meat Lab. Students explore everything about meat science, starting with the basic anatomy of livestock and ending with the final product. More than 200 undergraduates each year take courses such as Animal Products Technology, Meat Animal Evaluation, and Muscle Foods Processing. Lessons emphasize the humane treatment of animals, the importance of food safety, and adherence to good manufacturing practices.
The lab also provides employment opportunities for students, including three positions that allow students to work and live directly in the facility.
Research
The Meat Lab serves as a hub for faculty research, giving undergraduate and graduate students opportunities to conduct or observe meat product manufacture, evaluation, and chemical analysis. Recent research projects include studies of microbiological safety of meat, low-fat meat product technology, meat packaging technologies, and electronic sensors for assessing meat properties.
Extension
Educational opportunities are available through Penn State Extension workshops and webinars. Topics range from meat processing methods and safe food handling techniques to business and marketing principles.
Faculty and staff are also making a positive impact on the meat industry through a new apprenticeship program, the Penn State Butcher School. The program provides training for those who want to work in the industry and includes hazard analysis and critical control point (HACCP) certification, a required food safety credential. Butcher School participants receive part-time wages during their attendance, which includes four months of hands-on and classroom training with faculty at the Meat Lab. One hundred percent of graduates will be placed within the meat-processing industry, where there is high demand for trained workers.
The Butcher Block at Penn State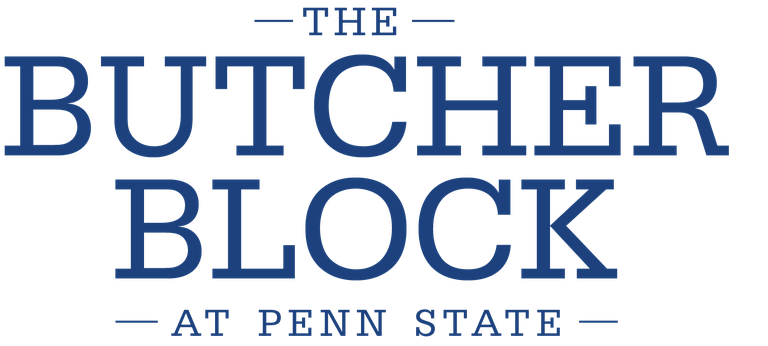 Critical to funding the education and outreach activities of the Meat Lab is the retail store, The Butcher Block at Penn State, which is open from 9:30 a.m. to 3 p.m. Fridays during the fall and spring semesters. During the weekly meat sale, fans flock to the store to stock up on fresh steaks, roasts, ground beef, pork chops, leg of lamb, summer sausage, snack sticks and more.
The Butcher Block also provides meat products to campus dining locations and the Penn State Berkey Creamery. For those who can't make it to campus, the Butcher Block's beef sticks, summer sausage, salami and jerky are available for purchase online at the Creamery web site.
Special sales events organized by student clubs are also arranged through the facility, allowing the students in those organizations to gain meat processing and marketing experience.
For More Information
Contact Glenn L. Myers, manager of the Penn State Meat Lab, at glm15@psu.edu.
Department of Animal Science
Address
109 AVBS Building
University Park
,
PA
16802
Department of Animal Science
Address
109 AVBS Building
University Park
,
PA
16802