The first instruction in poultry at the Pennsylvania State College was provided in 1895 by Professor of Agriculture George C. Watson, who taught part of a five-hour weekly lecture course in Animal Industry.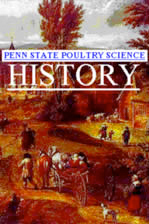 Professor Watson published a textbook titled Farm Poultry in 1901. T. I. Mairs, who was named assistant professor of animal industry in 1902, taught poultry husbandry from 1907 to 1909. In 1908, J. W. Clark was the first Penn State professor to be appointed instructor in poultry husbandry, followed by H. W. Jackson, 1909-1912; D. E. Warner, 1912-1913; M. C. Kilpatrick, 1912-1914; F. B. Crooks, 1914-1918; and L. G. Kleindschmidt, 1915-1919. On September 15, 1916, Professor H. C. Knandel instituted the Poultry Extension Department.
The Department of Poultry Husbandry was subsequently established at Penn State on July 1, 1920, by Professor Knandel, who served as the department head until 1944. He established a full course of undergraduate study in poultry husbandry, as well as an annual eight-week poultry short course. During his administration, several laying and colony houses were built for research and student instruction, culminating on October 27, 1938, with the dedication of a large new service building and instructional laying house. The Penn State poultry farm at that time represented an investment of approximately $200,000. In 1958, a separate turkey research farm was constructed.
Professor Ernest W. "Beanie" Callenbach was named department head in 1944 and served until 1957, when he was succeeded by Dr. Arthur J. G. Maw. During Dr. Maw's administration, the Department of Poultry Husbandry became part of the Division of Animal Science and Industry along with the Departments of Animal Science, Dairy Science, Entomology, and Veterinary Science. In 1963, the Department of Poultry Husbandry was renamed the Department of Poultry Science.
In 1966, Dr. Kenneth Goodwin assumed the poultry science department's headship. In that same year, poultry extension was integrated into the department, and the poultry husbandry curriculum became part of a newly established animal science and industry curriculum. Poultry science was made a cooperative member of a new Division of Food Science and Industry, which included dairy science, animal science, and horticulture.
When a separate Department of Food Science was created in 1976, the animal industry curriculum was replaced by separate curricula offered in the Departments of Dairy and Animal Science, Veterinary Science, and Poultry Science. These three departments participated in the newly formed animal bioscience curriculum. In 1978, since faculty members were supervising most of their doctoral students in the intercollege graduate programs established in physiology, nutrition, genetics, and ecology, the Ph.D. program in poultry science was discontinued.
Dr. Herbert S. Siegel became head of the Department of Poultry Science in 1984. Plans were already under way to obtain funding to build the Agricultural Sciences and Industries Building, including new greenhouses; remodel and expand the dairy research farm; and to construct of a new poultry research facility. Contracts were approved in 1991, and construction of the Poultry Education and Research Center (PERC) began in 1992 and was completed in 1995.
Dr. William D. Weaver Jr., who was named head of the department in 1991, provided oversight during the construction of the PERC. He also established Research Check-Off Programs with the Pennsylvania poultry industry. Advisory committees guide the Egg and Broiler Research Check-Off Programs from the industry. Penn State College of Agricultural Sciences faculty are invited to submit proposals for research funds based on priority areas determined by the advisory committees. This continues to be a very important cooperative effort between industry and Penn State faculty.
Following Dr. Weaver's retirement in August of 1998, Dr. R. Michael Hulet was appointed as Interim department head. He served admirably in this capacity for one year while continuing to carry out his extension and research programs.
On August 1, 1999, Dr. Robert G. Elkin joined the department as professor and head. He earned his B.S. in Animal Science (with distinction) from Penn State in 1975. Bob continued his education at Purdue University in West Lafayette, Indiana, and completed his M.S. (1977) and Ph.D. (1981) degrees in Poultry Nutrition and Nutritional Biochemistry, respectively. Dr. Elkin then joined the faculty of the Department of Animal Sciences at Purdue as an assistant professor in 1981, and was subsequently promoted to associate professor in 1986 and to professor in 1999.
Bob has brought fresh, new ideas to the Penn State Department of Poultry Science, one of only seven remaining Poultry Science Departments in the United States. He is continuing to further industry and alumni relations while seeking to increase student recruiting efforts, foster diversity within the department, identify new international opportunities for students and faculty, and enhance the departmental teaching, research, and extension programs. For example, one of these new initiatives is the recent formation of a Poultry Science Affiliate Program Group (APG). An APG is a group of alumni and friends of Penn State who share a common interest in enhancing the programs of an academic department or another university organization. It is a separate suborganization of the Penn State Alumni Association (PSAA) and the College of Agricultural Sciences Alumni Society. Other new programs include development of an agricultural Spanish course(s) in conjunction with the Department of Spanish, Italian, and Portuguese, co-sponsorship of animal science undergraduate international travel tours, and participation in a Memorandum of Understanding between Penn State and Cairo University that will bring students from Egypt to the University Park campus in order to subsequently obtain a B.S. degree in Animal Sciences from Penn State.
The Penn State Poultry Science history poster was presented at the Centennial Meeting of the Poultry Science Association in July 2008. As part of the celebration of the Association's 100 years, academic departments and other organizations were asked to submit a poster highlighting key people and events in the history of the unit. The posters were shown on flat screen monitors in a continuous 30-second loop at the annual meeting, which was held in Niagara Falls, Ontario, Canada, from July 20-23, 2008. Each registrant was provided with a CD containing all of the posters.
On July 1, 2012, the Departments of Dairy and Animal Science and Poultry Science merged to create the Department of Animal Science as part of the College of Agricultural Sciences Ag Futures process.
Department of Animal Science
Address
335 ASI Building
University Park
,
PA
16802
Directions
Department of Animal Science
Address
335 ASI Building
University Park
,
PA
16802
Directions