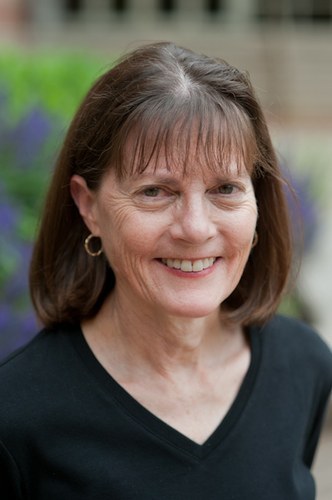 Pat
M.
Comerford
Extension Horse Specialist
Instructor of Animal Science
Undergraduate Adviser, Horses
Education
PAS, Specialization: Horses, American Registry of Professional Animal Scientists
M.S., Animal Science, Clemson University (Thesis topic: Equine Nutrition Supplemental Amino Acids and the Use of Chromic Oxide in Equine Rations)
B.S., Animal Science with Minor in Environmental Science, Clemson University, (High Honors)
Interests
Primary focus is youth equine extension (4-H) programs.

Primary interests include safety education, horsemanship skills and applied production and mangement practices. Also work with adult equine extension programs and with undergraduate program in equine studies.
Extension Activities
Youth Extension Programs - State 4-H Horse Program
Direct and provide leadership for Pennsylvania 4-H horse program involving over 7,600 youth and approximately 800 adult leaders

Develop, coordinate and conduct educational programs, horse shows, judging contests, clinics and seminars including state 4-H horse show with 1,500 entries, regional production shows with over 1,000 entries, state 4-H Horse Forum, and 4-H Horse Judges School

Develop state 4-H horse curriculum and reference materials for youth, leaders, and county staff

Initiate and develop state 4-H horse safety education, horsemanship skills, and horse show judges training programs

Direct and coordinate activities of state 4-H horse program advisory and development committees
Provide technical expertise for youth and adult 4-H leaders and volunteers on equine use, management practices, 4-H program policies and 4-H rules

Write and develop bi-monthly newsletter and information packets for county staff and volunteers for use throughout the state

Superintendent of Team Demonstration (communication) Contest at Eastern National 4-H Horse Roundup

Serve on Pennsylvania 4-H Animal Science Curriculum Committee to develop and implement curriculum and educational programs for large animal youth programs
Adult Extension Horse Program
Serve as state extension horse specialist and direct and assist with state extension horse programs for adults

Develop, direct and assist with educational programs including Winning Ways horsemanship clinics and Ag Progress Days Equine Educational Program

Initiated and developed reproductive management seminars in cooperation with veterinarians and pharmaceutical company representatives

Provide technical expertise for adult clientele throughout the state on equine use, production and management practices

Prepare and present educational programs on equine use and management throughout the state

Collaborate with equine industry groups and breed organizations
Undergraduate Education Activities
Taught undergraduate courses in introductory and advanced equine production and management; currently assist with production, merchandising, and equine industry issues and careers courses

Advise and assist students in academic and career planning and job placement

Supervise students in independent study projects

Supervise student presentations at national youth horse leader symposium and departmental undergraduate seminars

Assist with development of curriculum and course proposals

Recruit prospective students and promote university's equine programs

Develop promotional displays and materials for undergraduate programs

Serve on departmental horse users, awards, and social committees

Assist with planning and coordination of university horse sale with student participation
Current Activities
Youth Extension Responsibilities
Major Youth Extension Programs
PA 4-H Safety Program PA 4-H Horsemanship Skills Advancement Levels Program PA 4-H Judges Education Program PA 4-H Ethics Training Program
Major Youth Extension Events
PA 4-H Horse Forum

PA 4-H Horse Judges School

PA 4-H Regional Driving Clinics

PA 4-H Regional Production Project Clinics

PA 4-H Regional Reining Clinics

PA 4-H Horsemanship Skills Level Training Clinics

PA 4-H Regional Production Shows

PA State 4-H Horse Judging Contest

PA State 4-H Hippology Contest

PA State 4-H Horse Bowl Contest

PA 4-H Equine Skillathon PA State 4-H Competitive Trail Ride

PA State 4-H Horse Show

Eastern National 4-H Horse Roundup AYHC National Youth Horse Leaders Symposium
Adult Extension Responsibilities
Major Adult Extension Events
Winning Ways Clinic

 Ag Progress Days Equine Educational Program

 PA 4-H Horse Forum

PA 4-H Horse Judges School
Professional Service
American Youth Horse Council: Past President, Vice President and Secretary; safety manual co-author; developed membership brochure and AYHC promotional displays; Horse Industry Handbook advertising co-chair, chapter co-author and chapter reviewer; executive and membership committee
Pennsylvania Equine Council: State Director; initiated and coordinate student participation in PEC activities for independent study credit; trail committee; assist with coordination of PEC Workday and Trails Symposium
Pennsylvania Department of Agriculture (PDA) Equine Health Committee: Interact with PDA and industry professionals on equine health and production and management practices
Pennsylvania 4-H Horse Program Development Committee: Coordinate committee functions and subcommittees including curriculum, publications and project materials, 4-H projects and events, safety program, horse show rules, drugs and medications, and horsemanship skills
Pennsylvania 4-H Horse Program Advisory Committee: Coordinate committee functions and subcommittees including curriculum, publications and project materials, 4-H projects and events, safety program, and horse show rules
Pennsylvania Special Olympics: Coordinate trail events for riders with disabilities at statewide event
Penn State West Nile Virus (WNV) Coordinating Committee: Cooperate with college extension faculty and staff to provide information on WNV to clientele throughout Pennsylvania
American Quarter Horse Association (AQHA) 4-H Task Force Identify and consider opportunities for collaborative youth horse curriculum and programs for youth in 4-H and American Quarter Horse Youth Association (AQHYA)
Membership in Professional Societies
American Youth Horse Council

American Horse Council

Pennsylvania Equine Council

Equine Nutrition and Physiology Society

American Registry of Professional Animal Scientists

American Quarter Horse Association

Pennsylvania Quarter Horse Association

USA Equestrian Alpha Zeta Honorary Agricultural Fraternity

Gamma Sigma Delta Agricultural Society
Professional Experience
1987-1991 Self-employed Boarding Stable Manager Warrior's Mark, Pennsylvania

Managed horse boarding facility with 6-8 horses

Provided daily care, maintenance, and supervision of horses and facility

Provided nutritional supervision of horses and consultation with owners

Coordinated health care with veterinarian and clients

Provided daily "lay up" care of sick and injured horses

Conducted educational programs on equine nutrition and management for local horse groups
1984 - 1987 Veterinary Teaching Technician University of Georgia College of Veterinary Medicine Athens, Georgia
Supervised and instructed senior veterinary and veterinary technician students in anesthesia procedures and techniques

Revised and edited tests and teaching materials

Maintained medication, supply and equipment inventories

Coordinated hospital anesthesia schedules with surgeons and students

Anesthetized and monitored veterinary patients
1979 - 1984 Instructor of Animal Science Northeast Missouri State University Kirksville, Missouri
Taught undergraduate courses in introductory equine studies, horse production and management, ration formulation, introductory animal science, livestock judging, and senior agricultural seminar

Advised and assisted students in academic and career planning and job placement

Developed curriculum and course proposals for equine studies program

Coordinated equine studies program

Worked with local producers to incorporate student's projects into horse farm operations

Prepared plans for development of university farm and equine facilities

Served as faculty advisor to Horse and Rodeo Club and Collegiate 4-H Club

Coordinated workshops and short courses

Coordinated regional FFA livestock contests
1978-1979 Assistant County Supervisor Farmers Home Administration Macon, Missouri
Assisted farmers in enterprise planning for farm operating and real estate loans

Evaluated loan applications

Developed cash flow statements and balance sheet information

Conducted on-farm consultations with farmers to discuss operating plans and budgets
1976-1978 Graduate Research Assistant Department of Animal Science Clemson University Clemson, South Carolina
Assistant instructor of livestock judging

Prepared slides, tapes, and other teaching materials for undergraduate animal science courses

Conducted equine nutrition research in amino acid metabolism with digestion trials of ponies

Performed proximate analysis and other chemical analyses for research project

Started young horses working cattle

Rode horses to work cattle for artificial insemination projects
Awards
Partner in Safety Award from Certified Horsemanship Association for AYHC publication, Start with Safety: Horse Safety Guidelines (co-author with Tim Potter)
Equine Educator of the Year Award from American Association for Horsemanship Safety, for leadership and innovative endeavors in superior horse safety educational materials
Northeast Extension Directors Award of Excellence Honorable Mention for West Nile Virus outreach program (member of College of Agricultural Sciences West Nile Virus Coordinating Committee)
Ayer-Hammett Award from American Medical Equestrian Association, for outstanding leadership in equestrian safety education