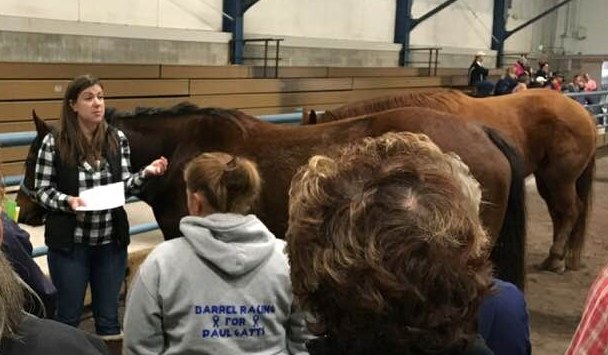 Andrea
Kocher
Instructor of Equine Science and Equine Extension Specialist
Undergraduate Adviser
314 Agricultural Sciences and Industries Building
University Park
,
PA
16802
Areas of Expertise
Equine Science
Youth Equine Education
Equine Management
Horsemanship
Education
M.P.S. Animal Science, Penn State University, 2012
B.S. Animal Science, Penn State University, 2004
Andrea is an equine extension specialist and Instructor of Equine Science at Penn State's University Park campus. She holds a Bachelor's and Masters Degree from Penn State in Animal Science with a concentration in Equine Science.
Andrea's youth extension programs focus on supporting the PA 4-H Horse Program through curriculum development and programmatic implementation. She also develops state 4-H horse curriculum and reference materials for youth, leaders, and county staff. Andrea also assists with the development, coordination of educational programs, horse shows, judging contests, clinics and seminars. The major youth extension events that she is involved with include: State Days Horse Judging Contest, 4-H Animal Science Camp, State 4-H Competitive Trail Ride, Horse Quiz Bowl at Ag Progress Days, PA State 4-H Horse Show and the Junior Horse Championship Show.
Andrea also develops, directs and assists with educational programs including Winning Ways horsemanship clinics and Ag Progress Days Equine Educational Program and the Penn State Horse Show Judges School. Andrea prepares and presents educational programs on equine use and management throughout the state as well as collaborates with equine industry groups and breed organizations
As part of her department contributions, Andrea teaches undergraduate courses in introductory equine production and management; currently assist with production, merchandising, and equine industry issues and careers courses. She advises and assists students in academic and career planning and job placement as well as recruits prospective students and promote university's equine programs. Andrea also serves as the co-adviser to the Collegiate Horseman's Association at Penn State(CHAPS) student club. 
Publications
Horsemanship Skills Driving Curriculum, Kocher, Andrea, Bickel, Bethany, 2023
Pennsylvania 4-H Horse Show Rule Book, Kocher, Andrea, Bickel, Bethany, Clark, Tammy, Snover, Amy, Stanco, Josepch, Zang, Donna, Trumble, Lew, 2022
Driving and Harnessing Guidelines, Kocher, Andrea, Bickel, Bethany, Clark, Tammy, Snover, Amy, Stanco, Joseph, Zang, Donna, Trumble, Lewis, 2021
Feed and Hay Worksheet, Kocher, Andrea, 2020
Horse Vitals Record Worksheet, Kocher, Andrea, 2020
How to Read a Feed Label, Kocher, Andrea, 2020
State Horse Show Entry Information, Kocher, Andrea, 2020
Junior and Dressage Horse Entry Details, Kocher, Andrea, 2020
Bit Guidelines, Kocher, Andrea, Bickel, Bethany, Clark, Tammy, Snover, Amy, Stanco, Joseph, Zang, Donna, Trumble, Lewis, 2019
Dressage Guidelines, Kocher, Andrea, Bickel, Bethany, Clark, Tammy, Snover, Amy, Stanco, Joseph, Zang, Donna, Trumble, Lewis, 2019
Driving and Harnessing Guidelines, Kocher, Andrea, Bickel, Bethany, Clark, Tammy, Snover, Amy, Stanco, Joseph, Zang, Donna, Trumble, Lewis, 2019
Driving Horsemanship skills Explanation Sheets, Kocher, Andrea, Bickel, Bethany, Clark, Tammy, Snover, Amy, Stanco, Joseph, Zang, Donna, Trumble, Lewis, 2019
Helmet Guidelines, Kocher, Andrea, Bickel, Bethany, Clark, Tammy, Snover, Amy, Stanco, Joseph, Zang, Donna, Trumble, Lewis, 2019
Horse Show Management Guidelines, Kocher, Andrea, Bickel, Bethany, Clark, Tammy, Snover, Amy, Stanco, Joseph, Zang, Donna, Trumble, Lewis, 2019
Hunter Hack Score Sheet, Kocher, Andrea, Bickel, Bethany, Clark, Tammy, Snover, Amy, Stanco, Joseph, Zang, Donna, Trumble, Lewis, 2019
Low Equitation and Equitation Over Fences Score Sheet, Kocher, Andrea, Bickel, Bethany, Clark, Tammy, Snover, Amy, Stanco, Joseph, Zang, Donna, Trumble, Lewis, 2019
Mini In Hand Trail Score Sheet, Kocher, Andrea, Bickel, Bethany, Clark, Tammy, Snover, Amy, Stanco, Joseph, Zang, Donna, Trumble, Lewis, 2019
Miniature Horse Jumping Guidelines, Kocher, Andrea, Bickel, Bethany, Clark, Tammy, Snover, Amy, Stanco, Joseph, Zang, Donna, Trumble, Lewis, 2019
Miniature Horse Jumping Score Sheet, Kocher, Andrea, Bickel, Bethany, Clark, Tammy, Snover, Amy, Stanco, Joseph, Zang, Donna, Trumble, Lewis, 2019
Novice Reining Score Sheet, Kocher, Andrea, Bickel, Bethany, Clark, Tammy, Snover, Amy, Stanco, Joseph, Zang, Donna, Trumble, Lewis, 2019
Obstacle Trail Guidelines, Kocher, Andrea, Bickel, Bethany, Clark, Tammy, Snover, Amy, Stanco, Joseph, Zang, Donna, Trumble, Lewis, 2019
Open Trail Score Sheet, Kocher, Andrea, Bickel, Bethany, Clark, Tammy, Snover, Amy, Stanco, Joseph, Zang, Donna, Trumble, Lewis, 2019
Over Fences Guidelines, Kocher, Andrea, Bickel, Bethany, Clark, Tammy, Snover, Amy, Stanco, Joseph, Zang, Donna, Trumble, Lewis, 2019
Ranch Riding Score Sheet, Kocher, Andrea, Bickel, Bethany, Clark, Tammy, Snover, Amy, Stanco, Joseph, Zang, Donna, Trumble, Lewis, 2019
Shared Horse Guidelines, Kocher, Andrea, Bickel, Bethany, Clark, Tammy, Snover, Amy, Stanco, Joseph, Zang, Donna, Trumble, Lewis, 2019
Working Hunter and Low Working Hunter Score Sheet, Kocher, Andrea, Bickel, Bethany, Clark, Tammy, Snover, Amy, Stanco, Joseph, Zang, Donna, Trumble, Lewis, 2019
State Performance Horse Entry Details, Kocher, Andrea, 2019
Junior Horse Entry Details, Kocher, Andrea, 2019
State Horse Show Entry Information, Kocher, Andrea, 2019
State Performance Horse Entry Details, Kocher, Andrea, 2018
Junior Horse Entry Details, Kocher, Andrea, 2018
State Horse Show Entry Information, Kocher, Andrea, 2018
Pennsylvania 4-H Horse Show Rule Book, Kocher, Andrea, Bickel, Bethany, Clark, Tammy, Snover, Amy, Stanco, Josepch, Zang, Donna, Trumble, Lew, 2017
Hunter Hack Score Sheet, Kocher, Andrea, Bickel, Bethany, Clark, Tammy, Snover, Amy, Stanco, Joseph, Zang, Donna, Trumble, Lewis, 2017
Low Equitation and Equitation Over Fences Score Sheet, Kocher, Andrea, Bickel, Bethany, Clark, Tammy, Snover, Amy, Stanco, Joseph, Zang, Donna, Trumble, Lewis, 2017
State Performance Horse Entry Details, Kocher, Andrea, 2017
Junior Horse Entry Details, Kocher, Andrea, 2017
State Horse Show Entry Information, Kocher, Andrea, 2017