Peters Named Penn State Animal Science Distinguished Alumnus
Posted: April 3, 2023
Jana Peters, retired Animal Science Advising Coordinator, has been selected as the 2023 Animal Science Distinguished Alumnus by Penn State's Department of Animal Science. She was honored at the 105th Little I, held April 1 at the Snider Agricultural Arena.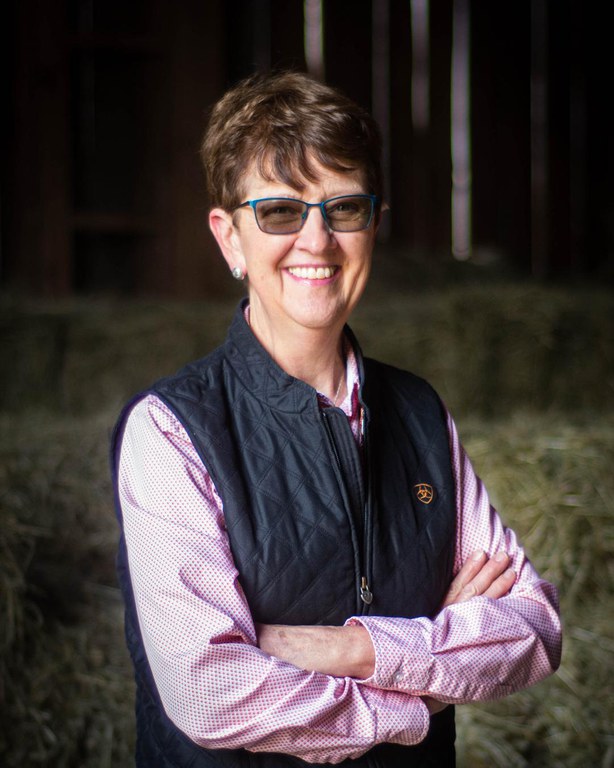 A 1979 graduate with a B.S. degree in Animal Production, Ms. Peters began her career as a Research Assistant with Dr. John Almquist at the Dairy Breeding Research Center (DBRC). She earned her M.S. in Dairy Science in 1984 while working at the DBRC under the direction of Dr. Phil Senger. After receiving her Master's degree, she worked for 15 years with Dr. Dan Deaver in reproductive endocrinology research, and later worked with Dr. Terry Etherton, retired Head of the Department of Animal Science. In 1999, she became Animal Science Advising Coordinator, and had a strong influence by helping students succeed in animal agriculture.
Dr. Adele Turzillo, Head of the Department of Animal Science, said, "We are so pleased to recognize Jana for her outstanding support for so many of our students over the years. Her influence has been wide ranging and continues to impact agriculture throughout Pennsylvania and beyond."
Peters said, "I am deeply honored to receive this recognition. Penn State means so much to me, and I am so proud to have had the opportunity to work with so many truly exceptional students over the years. Their success is a tribute to Penn State and to their hard work."
Active in both the Block & Bridle Club and the Dairy Science Club, Ms. Peters showed animals as a freshman in both the Dairy Expo and Little I. She particiapted on both the meat and livestock judging teams and was president of the Coaly Society. Upon graduation she was awarded the Outstanding Senior Award.
While working at Penn State, Peters received both the Penn State Stockmen's Club Booster Award and the Department of Dairy and Animal Science Outstanding Lab Staff award in 1992.
In 2003 she was awarded the Staff Laureate Ambassador Award by the College of Agricultural Sciences and was named the Little International Dedicatee in that same year. In 2013, she was named the Dairy Science Club Yearbook Dedicatee.
Peters also co-instructed several Animal Science courses, including Sheep and Goat Production/Management and Careers in Animal Agriculture. Jana has served an executive role in the Penn State Stockmen's Club for 34 years, maintaining connections with Department alumni. She said, "It has truly been my passion to maintain connection with alumni through the Club. It is also a way for me to honor those who helped me so much as a student and in my career."
She is a volunteer for Centre County 4 -H with the Sheep and the Rifle Clubs, and is active in the Gatesburg Lutheran Church.
A native of Cambria County, Peters and her husband Bill are parents of two College of Ag Alumni, and proud grandparents of two children.